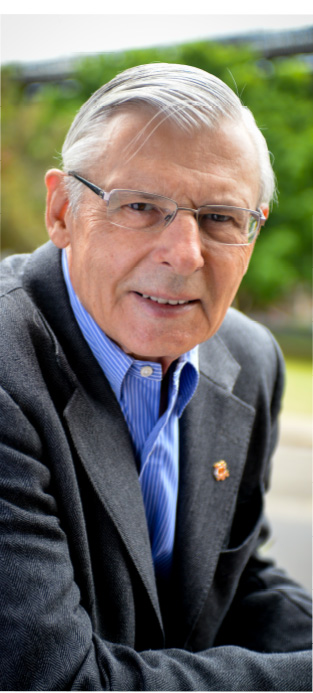 DR JOHN GATTORNA
John Gattorna, stands at the forefront of supply chain 'thought leadership' in the world today, and his work has influenced many of today's leading multi-national corporations.
He has made it his passion in life to stay at the cutting edge of supply chain design, and his last four books are testament to that, the most recent being Transforming Supply Chains: Realign your business to better serve customers in a disruptive world,  FT Prentice Hall, Harlow, 2020.
His advanced methodologies offer a way of dealing with the 'new normal' operating environment, characterized by volatility, and yet more volatility, with no respite in sight.
John's work has taken on a 'whole-of-enterprise' feel and scope, because he steadfastly believes that you can only transform enterprise supply chains if you transform the entire enterprise, hence his multi-disciplinary approach to supply chain design, from 'outside-in', using 'design thinking' principles.
Apart for researching, consulting, and teaching, John likes to share his best thinking with peers and business associates around the world, and for this reason he organises summits every two or three years – bringing the very best supply chain academics, practitioners, and business executives together for a talk-fest lasting two days, on a strictly 'by-invitation-only' basis.
John is Executive Chairman of Gattorna Alignment, a Sydney-based Firm specialising in supply chain 'thought leadership'. He has held a number of professorships, with the most recent being Adjunct Professor at the University of Technology, Sydney, the SP Jain School of Global Management, and Foundation Professor to CIPS Australia.
John welcomes your comments, and can be contacted on his personal email address: john@gattornaalignment.com
He is now one of the most respected supply chain 'thought leaders' in the world.
Download John's biography here
Academic and Other Appointments
2018 - CSCMP's Distinguished Service Award

Council of Supply Chain Management Professionals (CSCMP)
---
2018 - CSCMP's Supply Chain Hall of Fame

Dr Gattorna joined iconic supply chain management achievers in the CSCMP's inaugural Supply Chain Hall of Fame
---
2015 - current

Business Advisory Council, MBA International, School of Business, Athens University of Economics & Business (AUEB), Athens, Greece 
Visit website: AUEB
---
2013 - current
Adjunct Professor, and External Examiner, Global Logistics and Supply Chain specialisation
S P Jain Global School of Management [Dubai-Mumbai-Singapore-Sydney]
---

2012 – current
Adjunct Professor, UTS Business School, Sydney, Australia
---

2010 – 2015
Supply Chain 50 Special Advisor, SC50 Atlanta, USA
---

2009 – current
Foundation Professor, CIPS Australia
---

2005 – 2012
Adjunct Professor
Macquarie Graduate School of Management (MGSM), Sydney
---

1990 – 2011
Visiting Professor
Cranfield School of Management, Cranfield University (UK)
---

2007 – 2010
Chairman, Advisory Board
Institute of Logistics & Supply Chain Management (ILSCM), Victoria University, Melbourne, Australia
---

2003 – 2009
Adjunct Faculty member,
École de Management de Normandie/Normandy Business School, Le Havre, France
---